This is a lil How To on things to do and NOT to do when you attend a fashion show.

I hope ya take these Pearls of Wisdom to heart :)

I really do!



1. Have a Great Time.
I mean really. Nothing more boring than a silent audience at a show. Cheer your brains out!
Give props to ya fav model and/or designer. Yell! Get up and do a lil dance on ya seat.
Don't be grieferish about it, but be all the way live and pump it up!



Wooty Woot!



2. Do NOT wear ya Blings Blangs and Blungs.
Everyone's eyes are gonna be glued to the runway, not on you. Save the 10-piece jewelry set for yer wedding or something. /bling off <---- yeps good idea if you MUST wear ya joolz.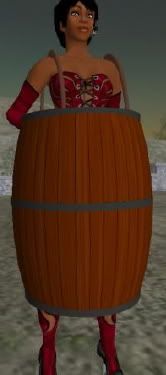 3. Tip the Models!
Oh my YES! Most models get paid in clothes, and thats wonderful. But break em off a lil somethin somethin you know? Sometime's there's an invis barrier between you and the hard workin darlins, so zoom in on their name and/or group tag, right click it and choose Pay.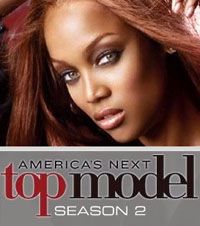 4. Do NOT wear that five-billion Prim Hairdo.
There's no need. See #2. The focus is gonna be on the runway, and you can help NOT contribute to the lag and ixnay the wig altogether. Bald is Beeyootiful!
LOL okies you don't have to go THAT drastic, but why doncha style yaself a cute lil hairdo from the system hair just for shows?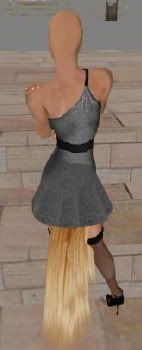 I see you hidin that wig up ya booty



5. Leave ya Scripted Attachies at Home.
Those huggers, shields, weapons, bits, AOs, personal lights, talking shoulder pets, radars, multitools etc etc: you DONT need em! Yer just gonna be hangin out in one place for an hour, so just detach and enjoy the show.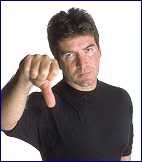 Simon Sez: NO AO!



6. BUY Something!
Just like the RL designers, SL designers are putting on fashion shows for a reason.
They are putting their products and brand out there for you to see and to BUY.

Fashion shows are RETAIL events not entertainment. Bring ya wallets and your purses and your sharp shoppin eyes when attending a fashion show.

If you simply want to sit and watch a bunch of pretty people walking around in gorgeous clothes: go to a club.

If something catches your eye, snag the LM and after the show go get it!
If there's products right there on site - easy enuff - do ya thang.
Feel free to IM the designer for a LM if you can't figure out how to use Search to find their store or whatever.
Shop. SHOP! SHOP! Shop. SHOP. Shop!
Like their stuff? Help keep yer fav designer in biz and support em and show ya love with ya wallets and purses.





7. Spread the Word!
If you get tipped on a fabu fashion show IM everyone one ya know and TP them on over. If you've discovered a kick ass place to shop: send out the LM to everyone you know. Again your sales help keep things going, and designers gotta pay rent RL and SL so WORK IT.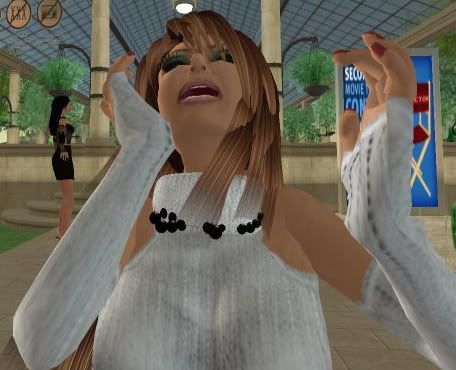 Hollah!



8. Leave the Flex at Home.
I might be wrong, but I believe, like particles, the amount of stuff generated in the area you are in, gets spread out by yer client. So if yer wearing every flex thing you own, and yer trying to see the quality of the flex on the runway.... Its gonna be a battle.
Wear a sexy lil pantsuit or something instead. Or wear that gown that looks absolutely charmante without the flex skirt.
Let the models do the flaunting, and you'll see the efforts of the designer in all the glory possible.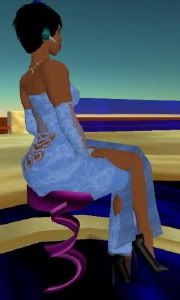 9. Check your Personal Prim Count.
Like the gazillion prim wigs, other attachies can come with high prim counts too. Its not a good idea to wear those punk rock boots with 8 thousands studs and chains. Opt for the simple sculptie heels, or ballet flats or heck bust out with ya noob flip flops.
Do your part to decrease lag. You can do it!
(Also leave those wings, halos, capes, follow bots/pets etc at home too)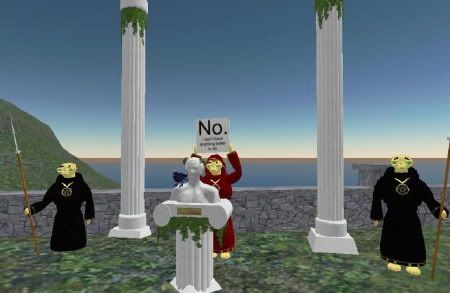 But.. but.. its only 1074 prims!



10. Be Verbally Appreciative.
Showing ya love with ya wallet is, yes, the best way to go, but also SPEAK OUT and let the models, designers, model wranglers, show hosts etc know that you appreciated all their hard work.

Hours, days, weeks and in many cases MONTHS of work have gone into prepping for a show. Not to mention costs in lindens, avatar hours and people coordination, model training etc etc.
The one hour you spend attending the show is the culmination of a lot of work, so let folks know you APPRECIATE what they've done.

(If you still dunno what I mean please Click Here. Mind you that's only ONE point of view. So you can imagine...)

Sometimes right after a show there's a lot of mayhem, so you may with to go for the IM rather than main chat. But that way is fine too.
Even if you dint particularly like the outfits or whatever, its really nice to let those who put the show on know that you appreciate their efforts. A simple thank you goes a long way :)



Showin MUCH Appreciation to Hubby Designer hehehe